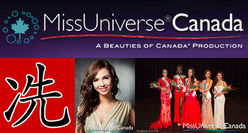 Joana Szeen is proud to represent the following 
individuals, organizations and businesses in the
Windsor Ontario Chinese community.
Mr. Ho Sang Yee - Yee Pharmacy Ltd
Mr. Richard Yee - Yee Pharmacy Ltd
Martin & Jessica He - Hoi Sushi
The Chan Family - Pomegranate

The Tan Family - China Kitchen Eatery
James Ging - Jimmy G's
Mr. Andy Jun - ReNu Kitchen Reface
Mr. Kevin Larkin - Collection Service of Windsor Ltd.
Essex County Chinese Canadian Association
Dr. & Mrs. Bing Jeun
Harvey & Susan Lo - Yummy House
Sun Hong BBQ
Mr. & Mrs. Jimmy He - May Wah Inn
The Fong Family - Fong's Villa
Sam & Alice Louie - Asian Square
Teresa Wong - Toronto Chinatown
Yvonne Chong - Flying Tiger
Ming & Family - Mandarin House
Thank you all who are voting and thinking about me.
I care about you all very much.
Please patronize these sponsors for me as often
as you can. - Joana Szeen